How we pack watches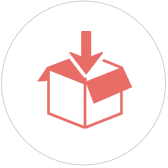 Watches are not exactly cheap goods and thus require special treatment. To convince you that we pack the watch in Helveti really precisely, we recorded the whole process for you on video.
You will learn:
what is included in the package,
how we treat the watch,
how we pack the watch,
and that everything only takes a few minutes (you order today and wear it tomorrow).
And most importantly, delivery and packing are completely free in Helveti!
Video: How we pack watches
1. Check and adjust
Before the packaging itself, we carefully check the condition of the watch, adjust it and polish it before storing it in the box.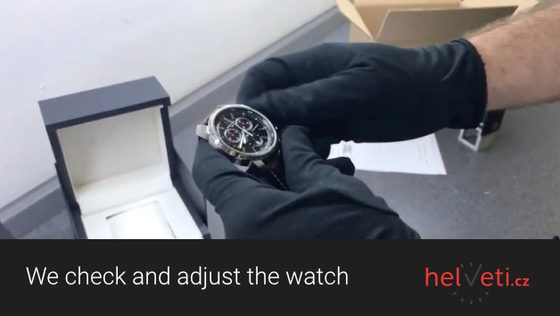 2. Original box with warranty card
The watch travels to you in the original box with a completed official warranty card (valid for the Czech Republic and the world), instructions, and warranty cards (if the watch has diamonds, for example).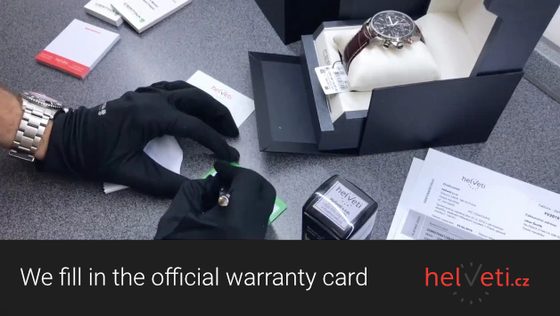 3. Fill in the box to the brim
We then place the original watch box in a hardened cardboard box, which we pour out the filling firm enough to prevent shocks. The cardboard box itself is made of three-layer cardboard. It is very strong and will hold several tens of kilograms (carriers place the packages on top of each other). It is an ecological material (both box and filling).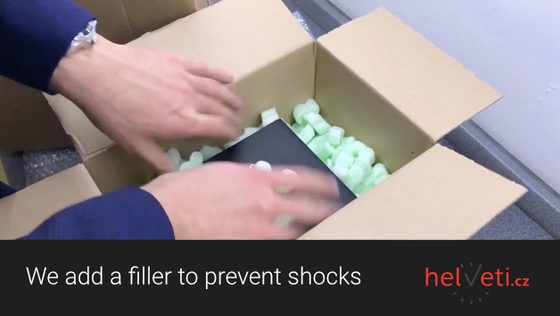 4. Gifts and documents
We will add gifts (such as a microfiber cloth or travel case), an invoice, and a thank you letter to the watch.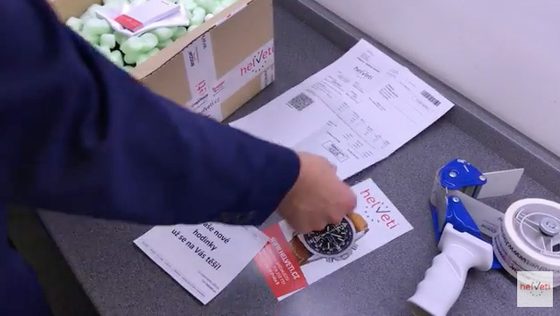 5. Fasten, seal, and hand over to the carrier
We fasten everything with bubble wrap and seal the box with tape with Helveti logo*. We will add a "fragile" label so that the carriers will behave adequately to the shipment. We'll also send you a tracking code via email so you can find out where the watch is right now.
* If the watch is to be a surprise and you are afraid of revelation, do not hesitate to write it to us in the order note. We will use ordinary tape without printing.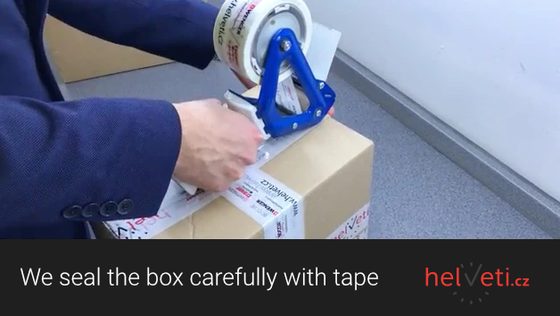 6. With the speed of lightning!
We manage all this for watches on stock within 24 hours. This means that when you order today (until 12:00), you are already wearing the watch on your wrist the next day.
We do our best for our customers! Because watches are a joy and we like to make our customers happy!
Warranties and benefits
Your package is insured

Postage and packing for the watch is completely free (shipping details for other products here)

We only send original watches with all accessories (warranty card for the Czech Republic and the world, instructions, original box)

We ship immediately, the next day you have a watch on hand

You have up to 90 days to return

The watch has a 5-year warranty and a 1-year watch insurance
Where to go now?