About Us
At Helveti.cz, we are watch enthusiasts and we specialize closely in selected brands. We understand our products and can always give you honest advice and support. The love for watches has been growing in us since the first watches sold on university dormitories in 2010. Jiří Štencek started here with the Wenger brand, to which he added more and more over time.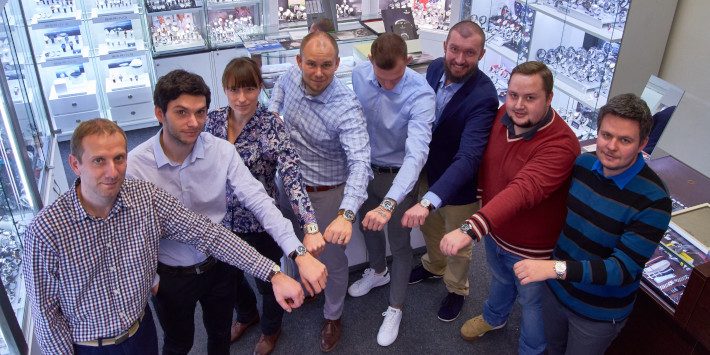 We do joy by watches
Our goal is the satisfaction and joy of our customers with new watches that exactly meet their requirements. We are authorized dealers and we trust our watches to the maximum. We provide a 5-year warranty, annual watch insurance and guarantee the originality of the goods.
We enjoy watches and that is why we are not only sellers, but we share our knowledge on our blog (so far only in Czech), make videos, and take photos of all watches.
And the name Helveti? Since its inception, we have focused mainly on Swiss brands. The name was therefore derived from the Latin name Helvetia, which denotes the region of Switzerland. 
Our principles
We hope that our policies will contribute to your satisfaction and that you will choose us as your watch supplier. You can find all the benefits on the Why buy watch from us page.
The customer comes first, we have an individual approach.
We only sell quality watches that we believe in.
We always give something extra, compared to other stores.
We understand our watches!
We try to help by charitable projects.
We pass on knowledge and experience, mainly in our blog (so far only in Czech).
Specialized shops
The main e-shop Helveti.cz was launched at the beginning of October 2014 and contains all our watch brands in one place. We also operate three specialized e-shops.

The first brand and the first e-shop
Our first e-shop (founded in 2010) is called HodinkyWenger.cz (in Czech) and specializes in the Wenger brand. We also add a military knife as a gift to this manufacturer's watch.

Fascination with Traser
In 2012, we went crazy for the Swiss Traser and launched the HodinkyTraser.cz e-shop (in Czech), where you can find Traser watches with the best luminescent technology on the market - Trigalight ®

The titanium age
The third specialized e-shop is HodinkyBoccia.cz (in Czech), where we offer German Boccia Titanium watches. These are characterized by the use of materials: titanium and ceramics. They are therefore suitable for people with nickel and zinc allergies.
d167a05dc99ef62f949e718a09949df0ac603386 — NosimeHodinky.cz
15,200+ Satisfied
customers
7,100+ Types of watches
on offer
9,200+ Questions
answered
900+ Caused
smiles
Great team of experts
Lots of other great people
There are many other people in the crowd, who help us, and it is only thanks to them, that we are where we are. We greatly appreciate their cooperation and help. Thank you!
The rapid history of Helveti
March 2011
It all started with one brand, one e-shop and one person. After buying his own watch, Jiří Štencek decided to sell the Wenger brand on his e-shop HodinkyWenger.cz (founded 2010). Sales start from university dormitories.
YEAR 2012
We buy and renew an online watch magazine NosimeHodinky.cz. Both the team and the offered brands are growing. In the middle of 2012, we are recruiting a brand Traser. The office and warehouse is at the memorial address Na Špitálsku 7, Prague - Karlín. The logical outcome of further growth in turnover was the establishment of Helveti s.r.o.
YEAR 2013
We are moving to newer and more representative premises and are hiring a third team member - Jakub. After a year since the last addition, we are taking the first non-Swiss brand under our wings Boccia Titanium. Compared to 2012, we are growing by 135%.
YEAR 2014
We are moving to a more spacious ground floor. A showroom and a separate warehouse are being created on an area of 73 m2. The store is ready! We are launching the Helveti.cz e-shop, which aggregates all our existing brands and we are happy to add our favorites Seiko and Victorinox. We are growing by 76%.
YEAR 2016
We become partners of charitable organizations UNICEF and Doctors Without Borders. New colleagues Martin, Darča, Ondra and Fanda help with the products and we have other brands Triwa, Casio, Davosa and Epos. The outdoor segment is completed by the Suunto legend. We grew by a great 66%, completed the store, our photo studio and managed a record Christmas rush.
YEAR 2017
We slowed down the acquisition of new brands. We said goodbye to Alfex and welcome Junkers and Zeppelin. In total, we managed a portfolio of 19 brands. The year 2017 was also marked by the optimization of processes and the increase of the warehouse. Jirka Bareš and Roman Procházka joined the team. We grew by 25% in terms of turnover, which made us very happy.
YEAR 2018
Big step for Helveti! We managed to acquire such essential brands as Tissot, Junghans, Bulova and Alpina. They again move us in the designated direction. At the same time, we supplemented the portfolio with Orient, Swiss Military by Chrono and Festina. For a long time, we are done with new brands and there are 26 of them in the portfolio. Two new colleagues, Martin Jasovský and Šimon Vlásenko, are joining us right away.
YEAR 2019
We are getting a unique brand MeisterSinger. The team was strengthened by Katka Jiříčková and Egor Erushin. We are exhibiting Bulova watches at SEW 2019. A wonderful event and beautiful memories of meeting our customers and watch fans.
October 2020
We are launching a new version of Helveti.cz and specialized e-shops HodinkyWenger.cz, HodinkyTraser.cz and HodinkyBoccia.cz. It is one of the company's biggest milestones in its entire history.
YEAR 2021
Our turnover is growing by approx. 43%, we still don't have a store open (it was supposed to be in September), we are trying sales jewelry, we welcome new brands Claude Bernard, Iron Annie, Ball, Edox ans Slovak Biatec. To the question "You don't have Garmin?" – we already answer yes 😉 Since 2020, the republic has been going through Covid... But we are still growing. Radim Kubeček, Simona Koníčková and Fanda Žváček join us.

September 2022
With the new store, we are fulfilling our dreams and welcome the following brands to Helveti: Mido, Maurice Lacroix, Fortis, Mondaine. You can also buy from us for a few months now luxury pens Parker, Waterman, Lamy and diaries and notebooks Moleskine.
and further ...
We have bold plans for the future, but above all... we want to continue to bring joy to our customers and we will do our best to keep you happy with us.
Now is the time for a new watch
Pick up the phone, write an e-mail or see for yourself in the e-shop .You get an introductory chat about the watch from us for free as a gift. And now you can easily decide for yourself what the right ones are.