Replacing or shortening the strap
Replacing or shortening the strap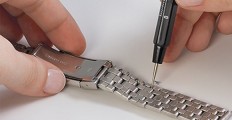 Replacement or shortening of the strap to measure
On request, we can shorten the steel strap. Just check the shortening option in the order and fill in the value of the measured wrist circumference, and we will adjust the watch before sending it. All for free.
Replacing the strap
You don't like the strap of the selected watch? Write to us and we will be very happy to offer you a watch on a different strap or pull.
We fulfill individual requirements
We try to accommodate to our customers as much as possible. Therefore, be sure to contact us if you are interested in any combination of watches.